一升もち 
A Big Rice Cake
(About a 1.8 liter rice cake)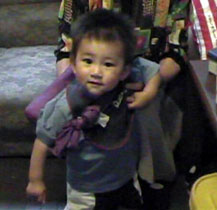 (文 澤  功)

 孫の諒が1歳の誕生日を迎えました。すくすくと無事に育ったことを喜び、もちをついて祝いました。
 この辺りでは、子供が1歳の誕生日を迎えると、健康でたくましく育つことを願って子供に一升もちを背負わせ歩かせる風習があります。
 ところが我が家の諒はまだ歩くことができません。誕生日には、お母さんの手を借りて一升もちを背負って無事に歩くことができました。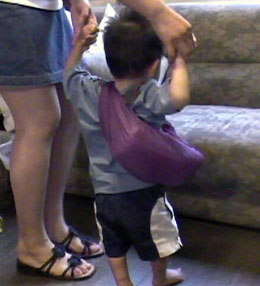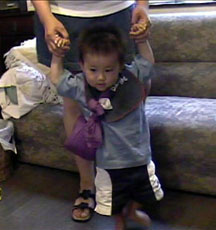 ---
A Big Rice Cake
(About a 1.8 liter rice cake)
 My grandson "Ryo" had his first birthday on June fourth, 2000. We are glad to see that he has grown and is healthy. We celebrated his first birthday traditionally by pounding rice for a special rice cake.
 On their first birthdays, babies walk holding a big rice cake slung across their shoulders in order to grow up healthy; the custom still prevails in Japan, especially here in this old area of Tokyo called Yanaka.
 By the way, my grandson "Ryo" can not walk by himself yet, but he could walk with the big rice cake slung across his shoulder with his mother's help.

---
Text by Isao Sawa
Translation into English by Yoshihiro Kitagawa