谷中の菊まつり
Fall in Japan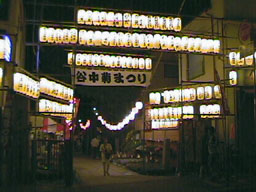 文: 澤  功
 澤の屋から歩いて10分ほどのところにある大円寺で、毎年10月14日と15日の2日間、「菊まつり」が開催されます。
夏目漱石の「三四郎」で有名な団子坂の菊人形は、明治の末から跡絶えていましたが、すし屋の野池さんと町の人たちが力を合わせて、17年前から「谷中菊まつり」として復活させました。
 菊の鉢植えの売り手も、焼き鳥、おでんの作り手も、プロの手を借りずに地元の青年部と婦人部の人たちです。
家は留守になるので子供たちも参加して終日賑わっています。
菊の鉢植えも、産地直送ですから手頃な値段です。
 14日の夜は、万灯行列で、賑やかな音楽と花車のパレードは圧巻です。
15日の夜は、寺町らしく、雅友会の人たちが、何百年も前と同じ形で雅楽を演奏してくれます。そのあとの「薪舞い」は、私のおすすめです。これは、寺の本堂の階段を舞台に見立てて、地唄舞の名手、出雲 蓉さんが踊るのですが、かがり火に照らされて舞う姿の動と静の美しさは、これが日本の美だと、毎年感動しています。
 菊まつりでの、私のもうーつの楽しみは、地域雑誌「谷根千」の人たちが、本と一諸に売っている菊酒を飲むことです。
これは、前の晩からカメの中に酒と菊を入れて作った菊酒で、竹筒で飲みますが、菊の香りがしてとても美味しく、毎年何杯もおかわりをしてしまいます。
 15日の夕方、宿泊のお客様を誘って「菊まつり」に出かけるのが、私の毎年の楽しみになっています。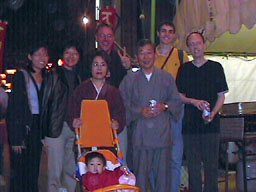 Fall in Japan
There is a chrysanthemum festival for two days from October 14th to 15th every year at Daienji Temple, just a ten minute walk from Sawanoya Inn, here in Yanaka, the old part of Tokyo. The Dangosaka Chrysanthemum Doll Festival was once very famous. Writer Soseki Natsume wrote about this festival in his novel Sanshiro. At the end of the Meiji era, however this festival disappeared. Then, 17 years ago, we brought it back.
My friend, Mr. Noike, was especially active in this. He is the leader of our group. He also owns a local sushi shop that is very popular.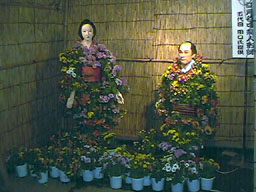 On festival days, the Daienji Temple path is lined with various shops serving grilled chicken, "oden" (vegetables, fish dumplings and various other types of food that are stewed in a thin soy soup and served hot), noodles and so forth. Without borrowing a single professional hand, the men and women and youth of our town pitch in to make and sell the food and the potted chrysanthemum plants.
Even young children take part in our festival because their mothers are helping at the festival and there is no one at home to care for them. The festival is crowded all day long. The potted chrysanthemums are sent directly from the growers so the prices are reasonable.
Our whole area is a "temple town" on the night of October the 15th when people of the elegant "Friends Party Association" perform traditional court music that has remained unchanged for centuries. I recommend seeing the "Aratamai" dance after that. This is a dance composed of the old fire watch dances. The performance includes dancing by an expert, Yo Izumo, on the stairs of the main temple. The beauty of her movements and the quietness -- the essence of the beauty of Japan -- impress me again and again every year.
Another enjoyment of our Chrysanthemum Festival is the special chrysanthemum sake served by the people who write YANESEN, our local magazine, which we drink together. It is made the previous evening by mixing sake and chrysanthemum petals. We drink it in bamboo cups and the smell of the chrysanthemums is very very delicious. I always make sure to drink several cups every year!
On the evening of October 15th I invite all our guests staying at Sawanoya Inn to go with me to the Chrysanthemum Festival. Next autumn, why don't you join us?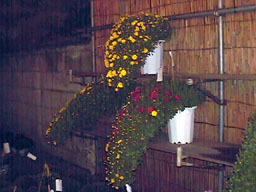 ---
Text by Isao Sawa, Translation into English by Yoshihiro Kitagawa