節分
Setubunn
2月3日は 節分
 寒くて長い冬と生命が芽吹く春の節を分ける日で、豆をまいてわざわいを祓います。
 豆をまくのは年男、あるいは一家の主人の役目とされていて「福は内、鬼は外」といいながら玄関や窓を全部開けて、奥から順に玄関に近い部屋に煎った大豆をまいていき、まき終わるはしから、わざわいが入ってこないように窓を閉めます。
また自分の年の数だけ豆を食べると、これから1年病気にならないと言われています。
 澤の屋では、主人である澤 功が「福は内、鬼は外」と大きな声を出して豆をまきます。その後お泊まりのお客様にも年の数だけ豆を食べていただいてます。
 下の写真はたまたま節分の日に宿泊されていたシンガポールからのお客様が「自分もやりたい!」ということで豆をまいている写真です。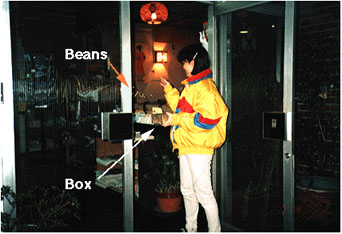 ---
setubunn
Experience Japanese culture firsthand in a family-style environment in Shitamachi, the old area of Tokyo. Why not join us next February for Setsubun ?
As soon as the sun sets on February 3, Sawanoya Ryokan celebrates Setsubun or Bean-Throwing Day. We fill wooden cups full of dried soybeans and stand in the front and back entrances. Then, we throw the beans outside and inside our ryokan while shouting: "Devils go out (oni wa soto)! Good luck come in (fuku wa uchi)!"
We let our guests munch on the remaining beans but only give them the number matching their age. Those who eat these beans will have good health throughout the year.
 Setsubun is also celebrated at a nearby shrine called Nezu Jinja. On February 3rd bean-throwing activities are organized in the shrine compound during both the morning and the afternoon. Celebrities and sumo wrestlers born in that particular year of the Japanese zodiac are invited to throw beans. Beans and other prizes are scattered throughout the large crowds gathered there, and we all scream with excitement as we try to catch them.
Our guests participated in this event last year and came home with beans and many other goodies.
Setsubun is a traditional event just before the arrival of spring, and for us it is always an enjoyable day. Come and stay at our ryokan and enjoy it with us!
Our guest from Singapore, Ms. Helen Su, sent the following letter about the setsubun she spent with us.
Dear Sawa-san and Arata-san,
Thank you for making my stay in your ryokan such a memorable one! Though the language was our barrier and our encounter was brief, I could feel the warm hospitality extended to me and the dream of staying in a typical Japanese house has enabled me to enrich my knowledge and experience the Japanese culture. Your family has been very helpful, kind and considerate in making my movement in Tokyo very easy.
I enjoyed the setsubun (bean-throwing) at your house, taught by Arata-san in saying "fuku wa uchi, oni wa soto" (see photos).
Your look out for the 8:15 monks' procession in your street was very helpful. If I missed that night's walk by the monks, I would not have a chance to take a photo of them and show it to my mother.
I enjoyed the stay very much; staying in a ryokan is what I always wanted to do. I felt very enriched in the Japanese culture after spending 3 days in Ueno and Asakusa. If I have the chance, I would like to come to Japan again and I hope you will reserve room no. 35 for me again.
Thank you very much!!!
Yours sincerely,
Helen Su