澤の屋のトイレの歴史
The Remodeled Rest Rooms of Sawanoya Inn
--A History of the Inn's Rest Rooms --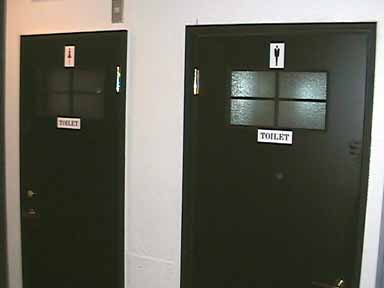 (文 澤  功)

 澤の屋は、昭和24年(51年前)に、木造2階建てで、旅館を始めました。当時は、トイレは、男女共用でした。昭和43年(32年前)に、現在の鉄筋3階建てに改築しましたが、トイレは同じく男女共用でした。

 日本のお客様の減少で、19年前に外国のお客様を受け入れ始めました。ところが外国のお客様に、「男女共用のトイレは見たことがない」と言われてしまいました。

 そこで、2階のトイレを男性用、3階を女性用にしてドアに表示をしました。女性用とした、3階のトイレの男性用の小用便器を、取り外さずに放置していましたら、「日本の女性は、立って用をたすのか」とアメリカの女性のお客様に、怒られてしまいました。さっそく小用便器を取り外しました。

 しかし、2階に泊まった女性客からは、「トイレが3階にあるのは不便」というクレームをいただき、部屋割に苦労をしていました。


女性用トイレ, Ladie's

 今年の5月に、町内の坂本建築さんに、トイレの改修工事をしてもらい、2階、3階共に、男女別のトイレを作りました。造りは和風ですが、便器は洋式でウオシュレット付きです。

 今までのトイレでは、考えられなかったことですが、家内がトイレの中に絵を飾りました。「トイレがきれいで便利になったね」と、お得意さんにいわれて、思いきって改修工事をしてよかったと思っています。


男性用トイレ, Men's

The Remodeled Rest Rooms of Sawanoya Inn

--A History of the Inn's Rest Rooms --

Sawanoya Inn opened 51 years ago in l949 as a two-story wooden building. In l968 it was rebuilt into a three-story ferroconcrete structure. At that time, the rest rooms were "Japanese style" and used by both ladies and gentlemen together. Urinals had been installed for the gentlemen.
About 19 years ago, due to a gradual decrease in Japanese guests in this old area of Tokyo, we opened our inn to guests from abroad. These guests were astounded, remarking that they'd "never before seen such rest rooms used by ladies and gentlemen together."
So, we separated them, making the rest room on the 3rd floor for ladies only and the one on the 2nd floor for gentlemen. We hung up signs "for ladies" and "for men" on their respective doors.
The ladies room, however, still had urinals, and a surprised American lady asked me: "Do Japanese ladies use urinals?" To prevent such cultural misunderstandings, we had the urinals removed from the ladies room.

Our problems were not over, though. Many female customers who stayed on the 2nd floor complained that going to the 3rd floor to use the ladies room was very inconvenient. I had a hard time assigning guest rooms.

In May 2000 a local builder named Mr. Sakamoto remodeled the 2nd and 3rd floor rest rooms. There is now a separate ladies and mens room on both floors, and they are hi-tech -- equipped with ultra-modern bidet systems. My wife has decorated the rest rooms with pictures. Our guests no longer have to go up or down stairs to use the rest rooms.
Times change.
Nowadays, guests comment that the rest rooms are attractive and convenient. I am very glad to hear this.
---
Text by Isao Sawa, Translation into English by Yoshihiro Kitagawa